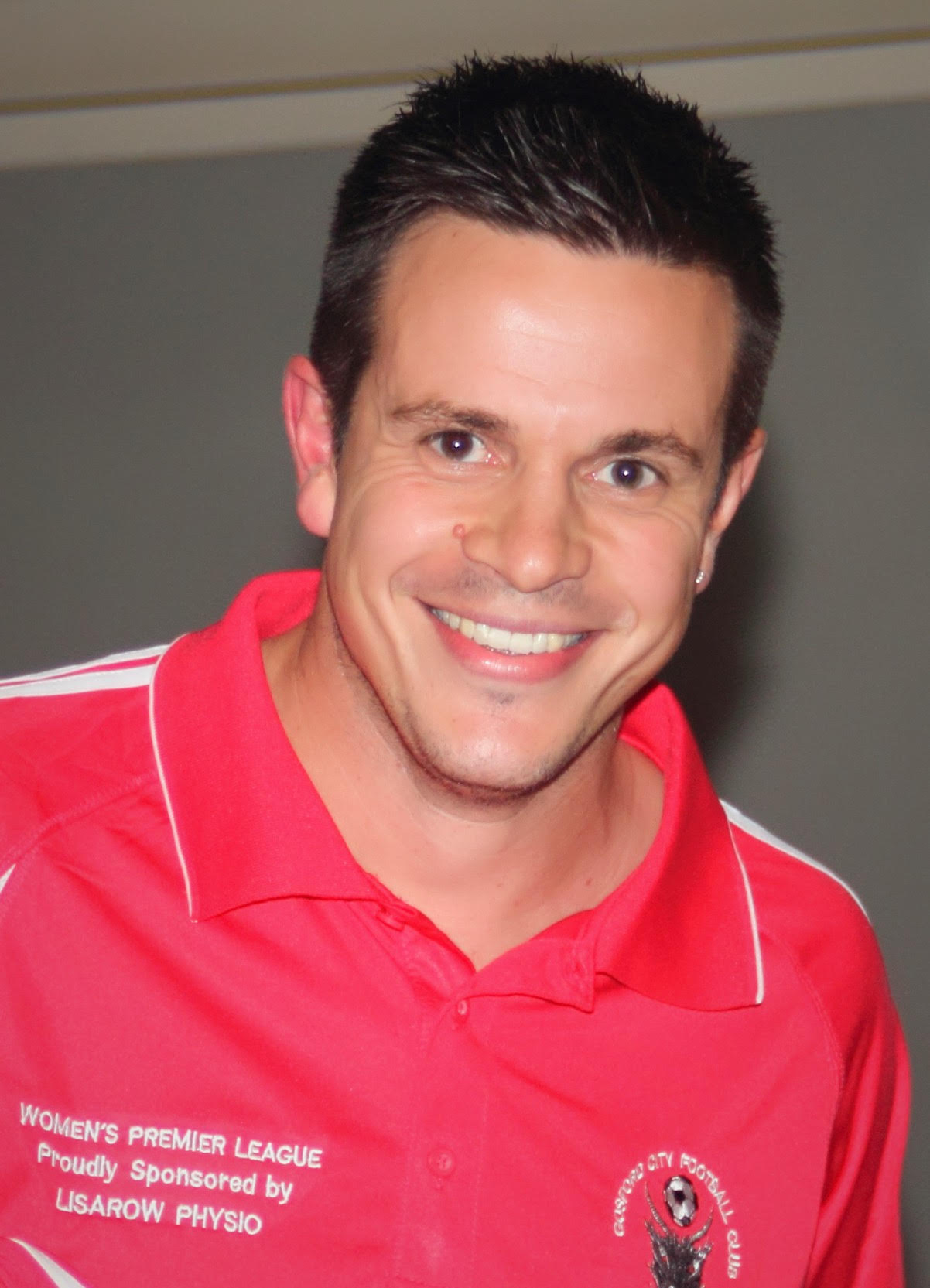 Gosford City FC has been lucky enough to have on board for the 2019 season, Peter Edwards as coach for our highly successful women's premier league squad. Peter started with Gosford City FC at the start of the year and we recently caught up with him to find out more about himself and his plans for our top women's side.
Q: Could you tell us a little bit about yourself, your football career and your coaching career?
I started playing football from a young age back in the UK, for the Newcastle United School of Excellence. We moved to Australia in 1999 and from there played for a number of Sydney teams including Blacktown Demons and Leichhardt APIA making my Senior debut at the age of 16. I moved back to the UK to trial and play for Kidderminster Harriers in English Division 2. With a few reoccurring knee injuries unfortunately, my professional playing career was cut short. Returning to Australia and to the Central Coast to play for a number of Sydney and Central Coast Premier League teams.
My Coaching career started out through coaching at Central Coast Grammar and Pymble Ladies College. My passion for Women's and Youth Football Coaching grew over the years of coaching and led me to win the NSW School State Title for Pymble Ladies College. I continue to develop my coaching methods and skills, completing various courses and FFA C Licence in 2018. Currently coaching at Central Coast United SAP and now enjoying the challenge of Senior Women's' Football at Gosford for the 2019 Season.
Q: What made you decide to come to Gosford City FC?
Gosford has always been one of the stand out clubs for the Central Coast region over the years. I believe the current board at Gosford have a fantastic approach to the game, players and staff. I believe they are looking to push Gosford to the next level by bringing people into the club with the right attitude and approach towards the game and was lucky to be considered for the Women's Coaching Role, given their previous years of success!
Q: What were your first impressions of our WPL Squad?

It has been a tricky start to 2019 for both the Men's and Women's PL squads with a number of players moving on. Having said that the group of players in the WPL squad are fantastic. I believe there is so much talent on offer! So much raw ability and passion for the game! They are a joy to coach and a fantastic group on and off the field. I was amazed how quickly so many new players, from all different clubs, (even Cairns!!!) have hit it off!
Q: What are your overall goals for the squad?
Of course my 1st and main focus is to get the team playing with my philosophy of football. Being attacking minded, and objective driven. I would love to see all players improve both in skill but mentally towards understanding the game. Finally, I'm so confident in the players we have at Gosford WPL that can win both the competitions this year!

Q: What is your coaching philosophy?
I would like to say I'm quite objective focused when it comes to coaching. I like to analyse the game and break down elements that I think we can improve on. Think of the game from an productivity and effectiveness outlook. 'How can we utilise the ball and position with the best outcome at all times', 'What's our objective?' I think my passion really comes across in training and gameday. You'll probably hear me from a few kilometres away! I push the team to strive to improve each and every day and look to keep thinks positive and interesting with my sessions.
Q: What are you looking forward to most this season?
I'm really looking forward to watching the team improve tactically and to test my coaching skills by choosing specific team tasks and formations to compete against different teams.
Q: Who are the players the watch out for this season?
I think Brittni Nicol is a sensational talent. So much speed and ability on the ball. I'm sure Britt will score many, 'MANY' goals this year!
If you're looking for silky smooth skill look no further then Jess Dominello or Michelle Brett, a pure joy to coach and work with technically!

Finally, for pure leadership, determination and just all round quality keep an eye on Grace Bryant, Ange Seymour and Club Captain for the WPL 2019 Season Jessika Manners!
To be honest, I am truly blessed with a fantastic squad of players, with literally every player offering different options and qualities. I guess it's just down to me to bring them all together on the field!
Thank you Peter for your time and we wish you and our women's premier league side all the very best for a successfull 2019 campaign. You can catch our WPL squad this Sunday 28th April at Duffy's Oval, Terrigal. Kick off for reserve grade is 1:00pm and first grade is at 3:00pm.
Our WPL squad is proudly sponsored by Lisarow Physiotherapy.