Gosford City Football Club was founded in 1963, and caters for all boys and girls, men and women- of all age groups and ability. We are a club who loves football and strives to be the best we can be, which is fair and fun for all our members!
We welcome all to our club, and aim to provide a community where all wanting to play football can be part of a team where they can enjoy, develop and flourish in their football lives.
We hope to have you join us and become a Gosford City Dragon!
CLUB NEWS:
PLAYERS NEEDED FOR 2022 SEASON:
At this point, while most teams are now closed for new registrations, we do have vacancies in the following age groups/teams:
- Under 11 players, new players to football welcome (turning 11 in 2022). Email Football Manager Juniors 10/11 years Daryl Hodgins This email address is being protected from spambots. You need JavaScript enabled to view it.
- Under 14 Women's Youth team, girls turning 13 or 14 in 2022. New players welcome. Girls turning 12 who would also like to be considered for this team can also enquire. Email Football Manager Women Karen Jacobs- This email address is being protected from spambots. You need JavaScript enabled to view it.
- 15C team, mixed boy/girls team, players turning 15 in 2022. Players turning 14 are also welcome to enquire. Email Football Manager Youth Cameron Bradley This email address is being protected from spambots. You need JavaScript enabled to view it.
- Women's All Age, anyone welcome to join this team- experienced or not. Email Football Manager Women Karen Jacobs- This email address is being protected from spambots. You need JavaScript enabled to view it.
- Men's over 35 team, only requirement is being a man 35 years old or over (no age cutoff). Team focused on fun, experienced or not you are welcome. Please contact Team Manager Dave Dallinger This email address is being protected from spambots. You need JavaScript enabled to view it.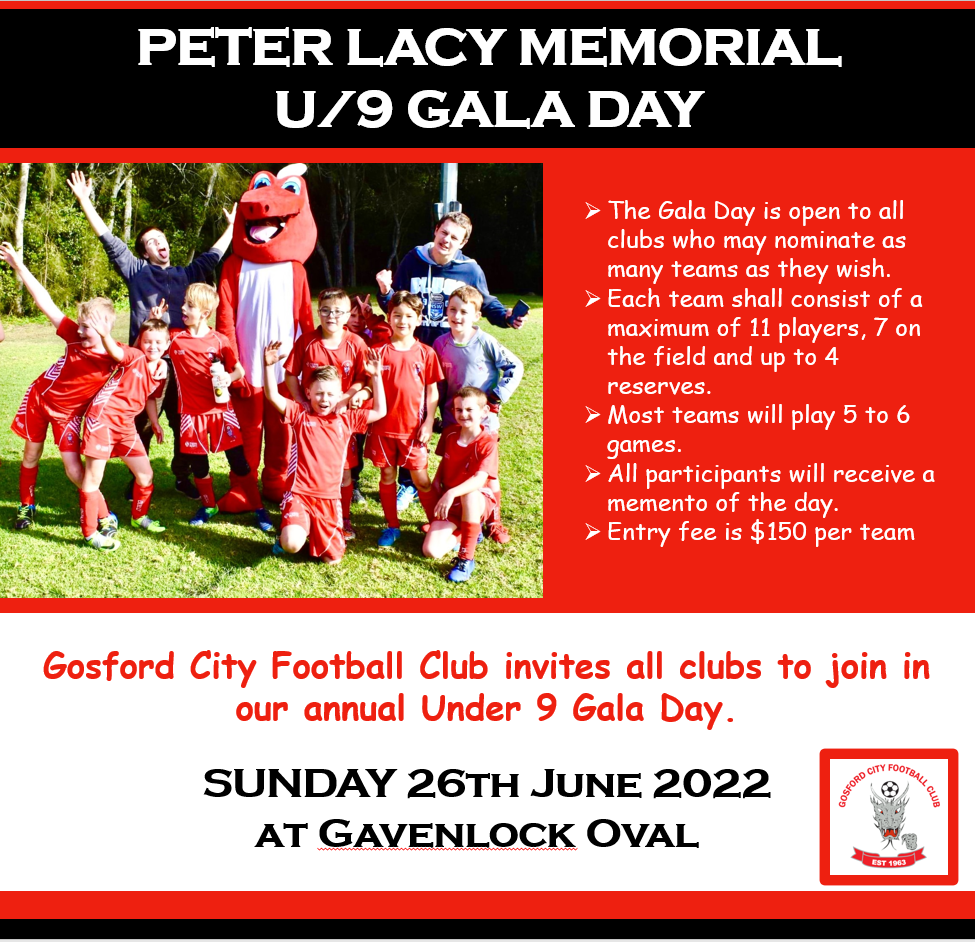 PETER LACY MEMORIAL UNDER 9 GALA DAY
Gosford City Football Club invites all clubs to join in our annual Peter Lacy Memorial Under 9 Gala Day.
SUNDAY 26th June at Gavenlock Oval .
To avoid disappointment send your nominations in to us ASAP as only 36 teams will be accepted on a first in basis.
CLUB COMMUNICATIONS DURING THE 2022 SEASON:
Our club communications are sent out from 'Stack Team App', this is an app which is free for our club to use- which offers us many features and means our messages can get directly to you. We're asking that all parents of players and players please download this app to ensure that you are aware of what is happening this season.
We are also active on social media, both Facebook and Instagram, but these are more community based rather than internal club information so it is necessary to be on the 'Stack Team App' so you get everything relevant to you. We do hope to see you on our social media too though!
Below is a quick how to join us on Stack Team App, you can also add it on your phone via the App Store:
'HOW TO' Join Stack Team App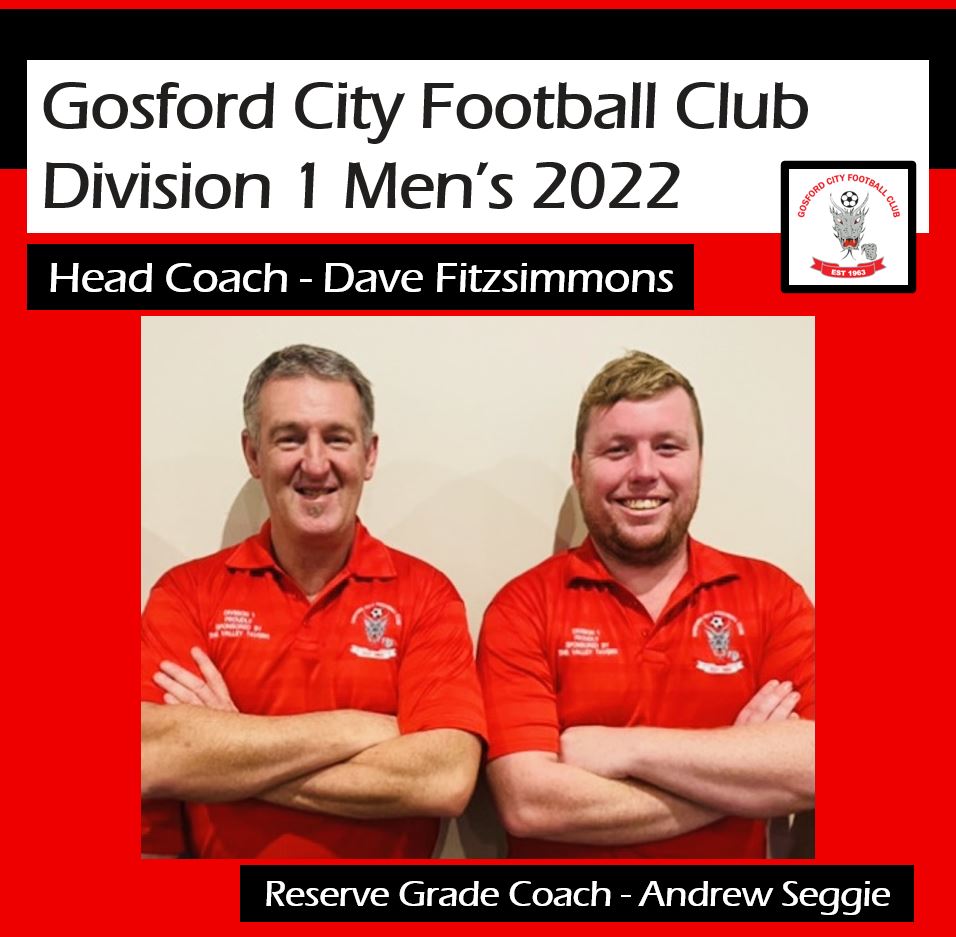 Gosford City FC Appoints Men's Division 1 Coaching team for 2022
Gosford City FC are proud to announce our Men's Division 1 coaches for the 2022 season:
Dave Fitzsimmons - Head Coach
Andrew Seggie - Reserve Grade Coach
Preseason training has begun and new players are welcome to attend.
If you have any questions please contact:
Dave Fitzsimmons 0450 794 873, or Col Seggie 0439222241.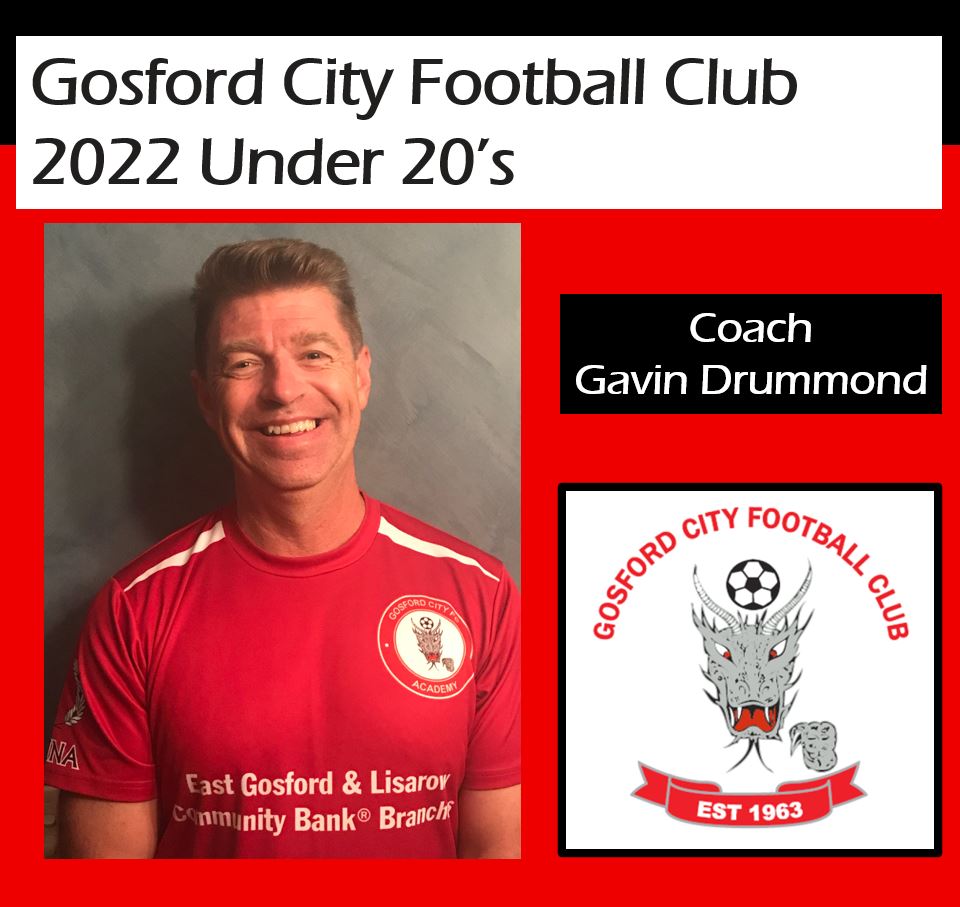 MEN'S UNDER 20'S 2022 COACH

Gosford City FC is proud to announce Gavin Drummond as our 2022 Coach of our Men's Under 20 years team.

Gavin was the Coach of the 20's side in 2021 and has had over 15 years experience in Youth Football Coaching. Gavin has completed 4 x FA approved Community and Advanced Coaching Licences, and he has assisted CCF as a Coach Instructor (with FNSW's Approval for one Course).

Gavin will resume as Coach of the 20's Squad and is pleased to note the return of many players from Gosford's top graded 16's & 18's players from seasons past. We are seeking players of an A & B Grade standard who are interested in joining this strong team. Players from our 2022 Under 20's will potentially be eligible for BPL 21's next season.

Pre season Training will be held on Tuesdays and Thursdays at Narara Valley High School between 5.30pm - 7pm (unless notified otherwise). Players do not have to be registered with Gosford City to attend training.

All 20's Player Enquiries to Col Seggie (President & Division 1 Manager) on This email address is being protected from spambots. You need JavaScript enabled to view it. or 0439 222 241, or Gavin Drummond on This email address is being protected from spambots. You need JavaScript enabled to view it. or 0411 557 133.
EXPRESSIONS OF INTEREST FOR FUTURE WOMEN'S COACH:
Gosford City Football Club is currently seeking expressions of interest for the position of head coach for our Women's WPL Premier League Squad for future seasons.
We have had success in the past with our WPL squad and we are hoping to continue that success in the future.
If you have an interest in coaching at a high level and think you could be part of our Gosford City FC team please contact:
Football Manager Womens Acting Karen Jacobs at This email address is being protected from spambots. You need JavaScript enabled to view it. with your application.