Gosford City Football Club was founded in 1963, and caters for all boys and girls, men and women- of all age groups and ability. We are a club who loves football and strives to be the best we can be, which is fair and fun for all our members!
We welcome all to our club, and aim to provide a community where all wanting to play football can be part of a team where they can enjoy, develop and flourish in their football lives.
We hope to have you join us and become a Gosford City Dragon!
CLUB NEWS: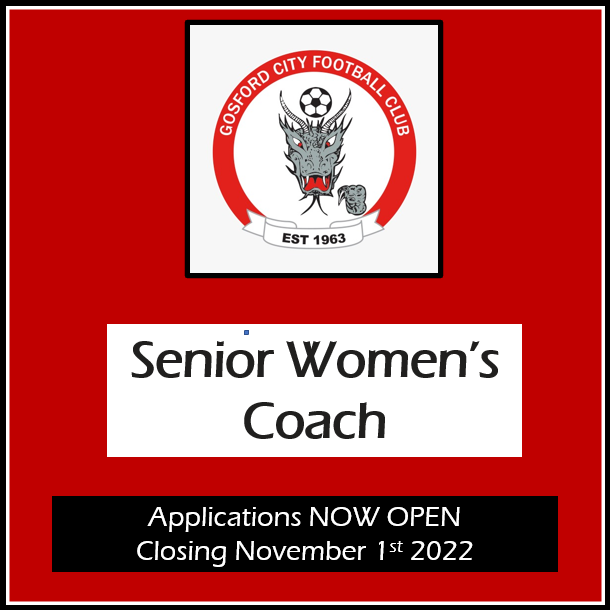 GOSFORD CITY FC SENIOR WOMEN'S COACH 2023
Gosford City Football Club is seeking applications from experienced Coaches who are passionate about Women's Football.
As our Senior Women's coach, you will be responsible for the coaching of our top Women's football teams, as well as being involved in the development and formation of player pathways for our female youth players.
The ideal applicant for this role would:
Have a background of coaching successfully over a number of years

Have the coaching and technical ability to challenge, improve & grow the skill level of our female footballers, with a commitment to the ongoing development of Women's Football at Gosford City Football Club

Be highly organised with excellent communication skills
Gosford City can offer the successful applicant:
Support to formalise coaching qualifications

The opportunity to join a club committed to growth, equality and inclusivity
For further information:
email This email address is being protected from spambots. You need JavaScript enabled to view it.
Written applications including cover letter and two coaching references, to be submitted to This email address is being protected from spambots. You need JavaScript enabled to view it.
APPLICATIONS CLOSE TUESDAY 1ST NOVEMBER 2022
POSITION INFORMATION:
As our Senior Women's Coach you are passionate about female football and want to be a part of building a fantastic culture and environment for developing female footballers at Gosford City FC.
You will be responsible for our top female football squad, whether this be a WPL Squad or Division One squad- which will be determined by how the competition plans for the 2023 season are defined by Central Coast Football.
You will be a good communicator and thrive working in a team environment, working with us to achieve the goals of our club.
We value the ideal of having local kids playing at their local club, and seeing our players develop, achieve goals, and love their football into adulthood- whether they're playing socially or aiming for the top. We want to be part of growing women's football on the coast, with the aim of having multiple teams across all 4 women's youth age groups.
You will be involved with female footballer development through our junior and youth teams, using your skills to assist our planning and coaching of this age group, and being part of a club who supports all our women's players regardless of their grading. You will also be involved with identifying pathways for our Gosford players from youth and seniors to filter into our highest level teams.
Coach Education is a key component of Football Australia's Football Development Plan, we support this objective and as such require our Senior Women's Coach to pursue formal qualifications- having a C Level License or undertaking the course to achieve this for the 2023 season. We will support your achievement of these qualifications.
This role starts immediately, with player trials beginning in November and pre-season training shortly after.
CLUB COMMUNICATIONS DURING THE 2022 SEASON:
Our club communications are sent out from 'Stack Team App', this is an app which is free for our club to use- which offers us many features and means our messages can get directly to you. We're asking that all parents of players and players please download this app to ensure that you are aware of what is happening this season.
We are also active on social media, both Facebook and Instagram, but these are more community based rather than internal club information so it is necessary to be on the 'Stack Team App' so you get everything relevant to you. We do hope to see you on our social media too though!
Below is a quick how to join us on Stack Team App, you can also add it on your phone via the App Store:
'HOW TO' Join Stack Team App