Gosford City Football Club Youth Teams
2023 SEASON NEWS
PRE- SEASON TIMELINE 5 - 18 YEARS


JAN 9TH - REGISTRATIONS OPEN
JAN 25TH - OPEN TRAINING SESSION 10-18 YEARS @ NVHS
JAN 28TH SAT - INFO SESSION @ GAVENLOCK 2 - 4PM
FEB 5TH SUNDAY - INFO SESSION @ NARARA VALLEY HIGH SCHOOL 10AM – 11AM
FEB 5TH SUNDAY - GRADING 9 - 18 YEARS ALL PLAYERS
* PLAYERS MUST BE REGISTERED TO ATTEND PLAYER GRADING *
11am - 12pm 9 years
12.15 - 1.15pm 10 years
1.30 - 2.30pm 11 years
2.45 - 3.45pm 12 years
4 – 5pm 13 & 14 years
5.15 – 6.15pm 15 - 18 years


FEB 8Th WEDNESDAY – A/B TEAMS PLAYER TRIALS
- 9 & 10 years 5-6pm
- 11 & 12 years 6-7pm
FEB 9th THURSDAY – A/B TEAMS PLAYER TRIALS
- 13 & 14 years 5-6pm
- 15 -18 years 6-7pm
MARCH 5th SUN - MEET & GREET TEAMS @ GAVENLOCK 5-18 years
(Shorts, socks available for sale. Sizing for team playing tops checked. Training Tops sizing done)
MARCH - TEAM TRAINING BEGINS @ NARARA VALLEY HIGH SCHOOL
MARCH 19TH SUNDAY - TRIAL GAMES 12 - 18 YEARS @ BLOODTREE OVAL against Umina FC
MARCH 25TH SAT - TRIAL GAMES 5 - 11 YEARS @ NARARA VALLEY HIGH SCHOOL
APRIL 1st/2nd SAT/SUN - FIRST GAMES OF THE SEASON
CREATING TEAMS/ GRADING/ A-B TEAM TRIALS
You can submit a nomination to create your own team in any age group, this requires player numbers and a coach and manager submission. Forms are attached with instructions, this needs to be submitted to the relevant Football Manager. THE BELOW GRADING INFORMATION STILL APPLIES TO THESE TEAMS SO PLEASE READ ON.
TEAM NOMINATION FORM 12 -18 YEARS
Under 9s to Under 18s
You can choose whether you wish to have your child placed into a team based on their relative skill level, or you can choose to play with friends and/or a specific team.
We hold a grading days for our under 9's to under 18's- IT IS A REQUIREMENT THAT ALL PLAYERS ATTEND GRADING REGARDLESS OF IF THEY'RE PLAYING SOCIALLY OR FOR COMPETITIVE GRADING.
Grading all players ensures we are able to have our teams playing in the correct grade of competition, playing in the wrong grade for the team can mean a very dismal and disappointing season if you are placed too high and lose all your games- this is why we require that our social teams created by friends have its players graded.
ADDITIONAL GRADING TRIALS FOR HIGH LEVEL TEAMS 9-18 YEARS:
A-B GRADE TRIALS
For our A or B graded teams we have individual player trials. These teams are highly competitive and so we hold a separate trial session for players who are interested in grading into these teams, this is in addition to the all player grading day – players are expected to attend both sessions. We welcome any player who is interested in playing at a higher grade level to attend – it is not by invite, all registered players can attend the trials for these teams. Grading during the trials helps us determine if the team will be A or B grade. No friend requests are considered when grading for a spot in a A/B team.
REGISTRATIONS NOW OPEN! You must be registered to attend grading. In the lead up to grading we are offering open training sessions which all are welcome to attend- both existing players, new or experienced players interested in joining a Gosford City FC team this season. We encourage anyone interested to come along to our January sessions to give it a go.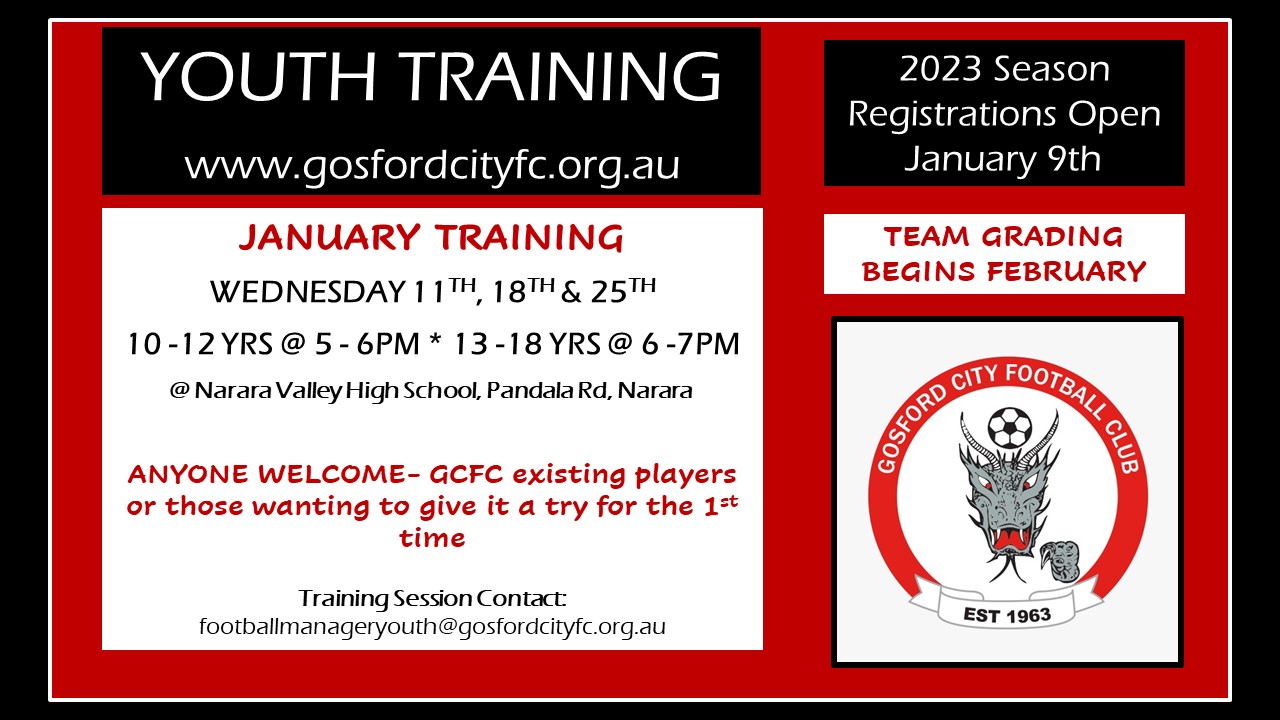 JANUARY TRAINING
WEDNESDAY 11TH, 18TH & 25TH
10 -12 YRS @ 5 - 6PM * 13 -18 YRS @ 6 -7PM
@ Narara Valley High School, Pandala Rd, Narara
ANYONE WELCOME- GCFC existing players or those wanting to give it a try for the 1st time
Training Session Contact: This email address is being protected from spambots. You need JavaScript enabled to view it.
GENERAL INFORMATION
Playing football at Gosford City Football Club is a great way for your kids to stay fit, and learn key life skills in a safe, fun team environment, with guidance from qualified coaches.
The Dragons offer age groups across our Youth program from Under 12′s to Under 18′s, and caters for all ability levels, from those wanting to have fun with their friends, to those who dream of the big time!
Football on the coast offers both a mixed male/female Youth competition as well as a female only Women's Youth competition.
Mixed Youth competition: offers under 12, under 13, under 14, under 15 and under 16 years teams. Games are played on Saturdays.
Women's Youth competition: offers under 12, under 14, under 16 and under 18 years teams (2 years combined under each age group eg under 14 includes under 13 & 14's). Games are played on Sundays.
Men's Youth competition: under 18's, games played on Sundays.
Whether players choose to play in the Mixed Youth or Women's youth competition is personal choice and each option is equally supported by Gosford City FC. We want our female players to be comfortable and happy- and so support their ability to choose which competition they play in.
CLICK FOR WOMEN'S YOUTH COMPETITION INFORMATION
HOW WE CREATE TEAMS
You can choose whether you wish to have your child placed into a team based on their relative skill level, or you can choose to play with friends and/or a specific team.
We hold grading days for our under 9's to under 18's- IT IS A REQUIREMENT THAT ALL PLAYERS ATTEND GRADING. At grading players can be graded individually to be placed in a competitively graded team, or those players wishing to form their own team can have their team graded to ensure they're playing in the correct level of competition for their teams overall skill level.
For those wanting to play with friends and create their own team these are the numbers of players that are required:
| | | |
| --- | --- | --- |
| Team Age Group | Players on field | Max players in team |
| Under 12-18 years | 11 | 16 |
We aim to have our teams created at the beginning of March, teams must be submitted to Central Coast Football for inclusion in the competition by March 10th. Registrations can be accepted after that date but only where we have an available spot in a team. We encourage those wanting to invite friends to play to do so early to ensure they don't miss out.
PLEASE NOTE- FOR PLAYERS WANTING TO PLAY UP AN AGE GROUP: All requests to play in a different age group than your child's birth year age group need to be made to your relevant Football Manager. The club must assess each request individually to ensure player safety and fairness to all our teams. We will wherever possible accommodate requests. Players wanting to play up in a team in under 9's and over must attend grading- for both their actual age group and the age group they want to play in.
For information on how to get involved, contact:
12-18 YEARS

Football Manager Youth

Cameron Bradley

email:

This email address is being protected from spambots. You need JavaScript enabled to view it.
We look forward to having you as part of our community!
Gosford City Football Club
CLUB COMMUNICATIONS DURING THE SEASON:
Our club communications are sent out from 'Stack Team App', this is an app which is free for our club to use- which offers us many features and means our messages can get directly to you. We're asking that all parents of players and players please download this app to ensure that you are aware of what is happening this season.
We are also active on social media, both Facebook and Instagram, but these are more community based rather than internal club information so it is necessary to be on the 'Stack Team App' so you get everything relevant to you. We do hope to see you on our social media too though!
Below is a quick how to join us on Stack Team App, you can also add it on your phone via the App Store.
CLICK HERE FOR 'STACK TEAM APP' INSTRUCTIONS