Gosford City Football Club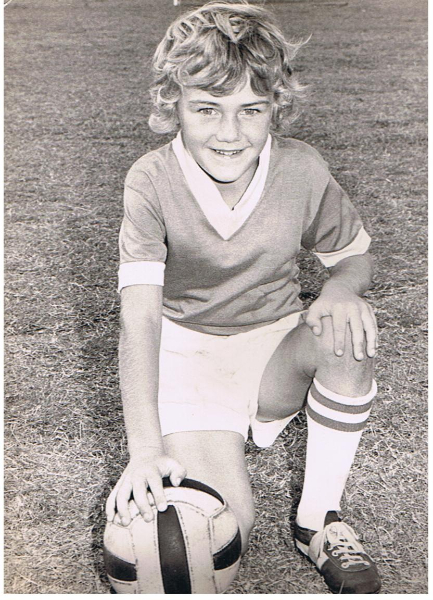 Gosford City Soccer Club joined with Central Coast Soccer Association in 1963, now known as Gosford City Football Club and Central Coast Football respectively.
Players have been playing for Gosford since the mid 50's but had to travel extensively until the Central Coast formed it's own association in 1963. Springfield United joined with Gosford City in 1981 bringing along many families, some of whom are still with the Dragons.
Originally we played at the oval adjacent to the Leagues Club known as Grahame Park, we then re-located to Adcock Park, West Gosford for several years before moving to our current home ground of Gavenlock Oval, Adam Street, Narara.
Gosford City has been awarded from the association the following: Austin Butler Shield in 1988 and 1996, the Sterland Trophy – now known as the Bill Pluim Cup in 1992 and the Jack Atkins Trophy in 2001.
Gosford City has two long serving players in Scott Eyers and Mark Young who both mark 40 years service to the Dragons in 2013.
Unfortunately due to earlier computer breakdowns our records are minimal.
Below is a graph of how our Club Membership has grown over the years since 1994. In 2010 we had 584 Members.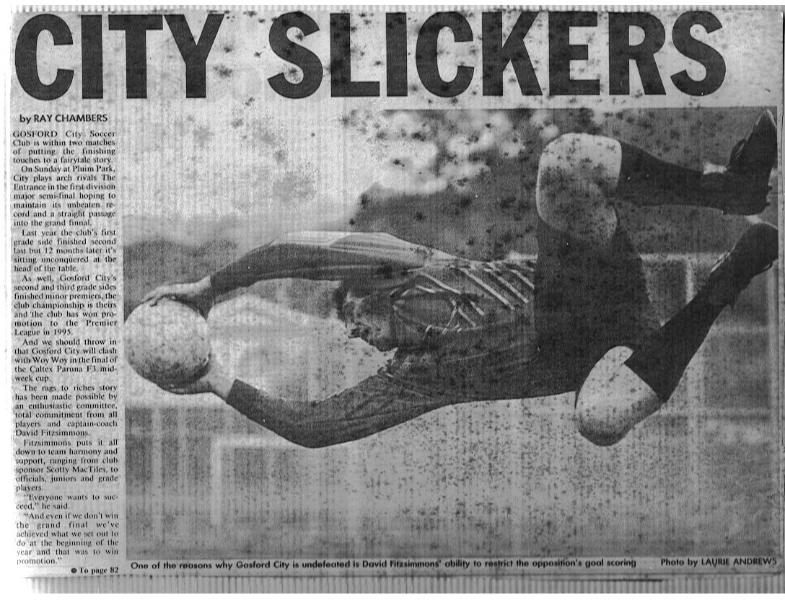 Our Senior men's division's have been very competitive over the years, after being promoted in 1994 from first division they won the Premier League Trophy in 1995 and 1996 with Dave Fitzsimmons as coach. Dave was awarded the MPL Coach of the Year in 1995. (Several players from these squads are still playing in the Club's over age sides. Our Senior division also won the Men's Association Cup in 1996.
The club won promotion to Premier League in 2008, and despite relegation the following season, was promoted again in 2012, to compete in Premier League for our 50th year.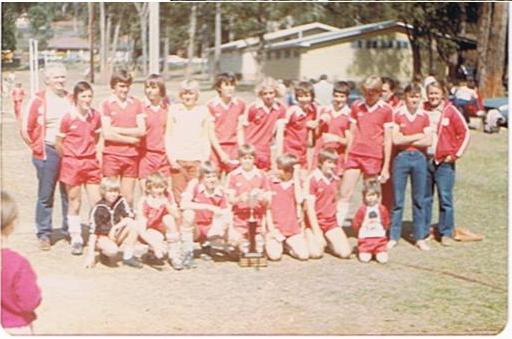 The first women's team played for the Dragons in 1982, we have grown in this section of the club to now field Women's teams from Under 12′s to Women's Premier League. In 1992 our B Division won the Minor Premiership as well as the Championship. Our Junior "Red" teams also won in 1992 and 1993. Championships also won by WAA2 and WAA4 in 2005 and W14B in 2004. Our women's Premier League side has now gone on to be one of the most successful on the Coast, and indeed the state.
Our Junior division's have won multiple awards with many competition teams winning Minor Premiership's and Championship's over the years. We currently have junior and youth teams from Under 5's to Under 18's.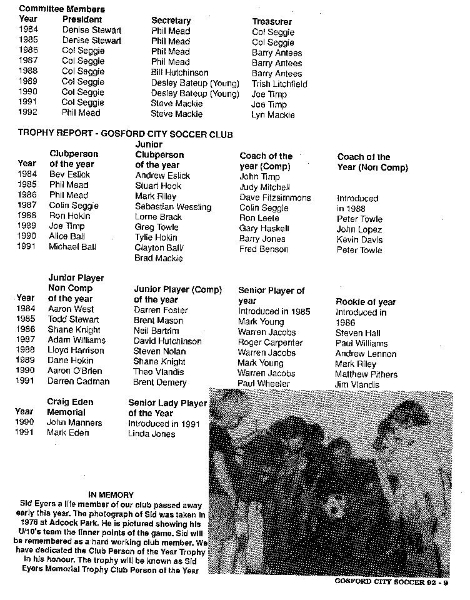 Gosford City Football Club has many Life Members, they have been broken up into "Nominated Life Members" and "Playing Life Members". Nominated members are those who may or may not have played for the Club but have worked tirelessly for the Club whether it be coaching, managing or being on the committee or most of the time all of those, these members have been nominated by their peers and awarded Life Membership at an AGM.
Playing Life Members are those who have played at least 15 years straight with the club showing their commitment to the Dragons. See below our many Life Members.­­­
Nominated Life Members in Alphabetical Order
Ron Bain, Alice Ball, Robyn Clews (deceased), Max Craft, Pat Craft, Adele Eyers, Sid Eyers (deceased), Robert Farthing, David Fitzsimmons, Margaret Fitzsimmons (deceased), Kelly Hall, Alison Hanley (deceased), Garry Haskell, Peter Huxley, Warren Jacobs, Les Jones, Joan Jones, Peter Lacy (deceased) Steve Mackie, Phil Mead, Matt McBrien, Michael McBrien, Joe Pace (deceased), Les Place, Paul Roberts, Sue Rowley, Andrew Seggie, Col Seggie, Sheryl Seggie, Ilorna Simpson, Joe Timp, Dave Wade, Cherie Williams, Mark Young, Mark Yule.
Playing Life Members in Alphabetical Order
Neil Atkinson, Cameron Bik, Hayden Blake, Cameron Bond, Viv Bouwhuis, Holly Buchanan, Tom Carbone, Matthew Clews, Lukas Clews, Ben Cohen, Tim Cohen, Norma Cornwall, James Cross, Paul Custance, Jess Davis, Peter Donnelly, Andrew Eslick, Scott Eyers, Rob Farthing, Rhys Foody, Greg Francis, Jarrod Galante, Jeremy Garrard, Jason Gavenlock, Frank Giannini, Stephen Gibbs, Shane Gough, Luke Graham, Shanan Grant, Mitchell Grant, Brad Gray, Steven Green, Zac Hall, Rick Hamilton, Ben Hanley, Bowden Hartshorne, Ashley Hume, Liam Huxley, Peter Huxley, Tyler Jacobs, Michael James, Steve Kilpatrick, Lachlan Lacy, Walter Loveridge, James Machan, Kyle Marston, Paul Matheson, Brian McGregor, Ross McKechnie, Scott Meikle, Graham Nieass, Phil O'Donnell, Keegan O'Loughlin, Morgan O'Loughlin, Craig Parkinson, Adam Parkinson, Andrew Payne, Bruce Peake, Matthew Pithers, David Ross, Craig Ross, Christopher Ross, Kylie Rowley, Sue Rowley, Jai Sampson, Nathan Scott, Oliver Scott, Warren Selby, Michael Shoobert, Brendan Simpson, Daniel Simpson, Andrew Seggie, Andrew Smith, David Spillane, Jeremy Staite, David Sullivan, Phillip Swinford, Mark Timp, Ben Usback, Nathan Wallace, Wayne Young, Mark Yule.
Please contact us if you have any information or photos you would like to add to this page at
This email address is being protected from spambots. You need JavaScript enabled to view it.
View our History Gallery
Gosford City FC's Perpetual Award Winners
Club Person of the Year (Prior to 1992)
1984 - Bev Eslick
1985 - Phil Mead
1986 - Phil Mead
1987 - Col Seggie
1988 - Ron Hokin
1989 - Joe Timp
1990- Alice Ball
1991 - Michael Ball
In 1992, Long time club supporter, and Life member Sid Eyers, passed away suddenly. The Club Person of the Year award, was renamed in honour of Sid, and a new trophy was purchased. Each year since, the trophy has been awarded at the end of year club presentations, by either Adele Eyers, Sid's widow, or his son Scott, who remains a current Over 45 player.
The "Sid Eyers Memorial Trophy" For Club Person of the Year
1984 - Bev Eslick
1985 - Phil Mead
1992 - Chris Rowley
1993 - Sheryl Seggie
1994 - Col Seggie
1995 - Steve Hanley/ Matt McBrien
1996 - Cherie Williams
1997 - Cherie Williams
1998 - Cherie Williams
1999 - Cherie Williams
2000 - Matt McBrien
2001 - Bill Murch
2002 - Robert Farthing
2003 - Ilorna Simpson
2004 - Robert Farthing
2005 - Robyn Clews
2006 - Ilorna & Eugene Simpson
2007 - Les Place
2008 - Dave Hall
2009 - Mark Young
2010 - Gavin Drummond
2011 - Karen Jacobs
2012 - Paul Zaia
2013 - Shaun Howell
2014 - Mark Brown
2015 - Mark Green
2016 - Jared Keens
2017 - Kylie O'Loughlin and Kay Semmens
2018 - Ilorna Simpson and Gavin Drummond
2019 - Natalie Rains
Competition Coach of the Year
1984 - John Timp
1985 - Judy Mitchell
1986 - Dave Fitzsimmons
1987 - Col Seggie
1988 - Ron Leete
1989 - Gary Haskell
1990 - Barry Jones
1991 - Fred Benson
2000 - Rob Farthing
2001 - Phil Mead
2002 - Dale Burrows
2003 - Les Place
2004 - Stephanie Mills
2005 - Derek Nicholson
2006 - Emily Bell
2007 - Graham O'Loughlin
2008 - Nigel Meltzer
2009 - William Vasquez
2010 - Rob Jarman
2011 - Matt Walker
2012 - Ray Jenkins
2013 - Dave Sullivan
2014 - Ray Jenkins
2015 - Michelle Nieass
2016 - Craig Gustard
2017 - Matt Tranmer
2018 - David Dallinger
2019 - Mark Jones
The "Sico Howard" Trophy For Non-Competition Coach of the Year
1988 - Peter Towle
1989 - John Lopez
1990 - Kevin Davis
1991 - Peter Towle
1992 - Grant Cadman
1993 - Kevin Weaver
1994 - Matt McBrien
1995 - Sylvia Lacey
1996 - Matthew Rothwell & Lachlan Scott
1997 - Brett Mitchell
1998 - Derek Nicholson
1999 - John Watmough
2000 - Paul Morgan
2001 - Kylie Kerslake
2002 - Graham Nieass
2003 - Craig Stiles
2004 - Jess Hutchinson
2005 - David Hurley
2006 - Warren Jacobs
2007 - Grant Hansford
2008 - Mark Green
2009 - Brett Dicker
2010 - Paul Zaia
2011 - Brad Doyle
2012 - Mark Green
2013 - Gavin Drummond
2017 - Paul Bryan
2018 - Emmanuel Vlandis
2019 - Guy Buschmann